Operator controls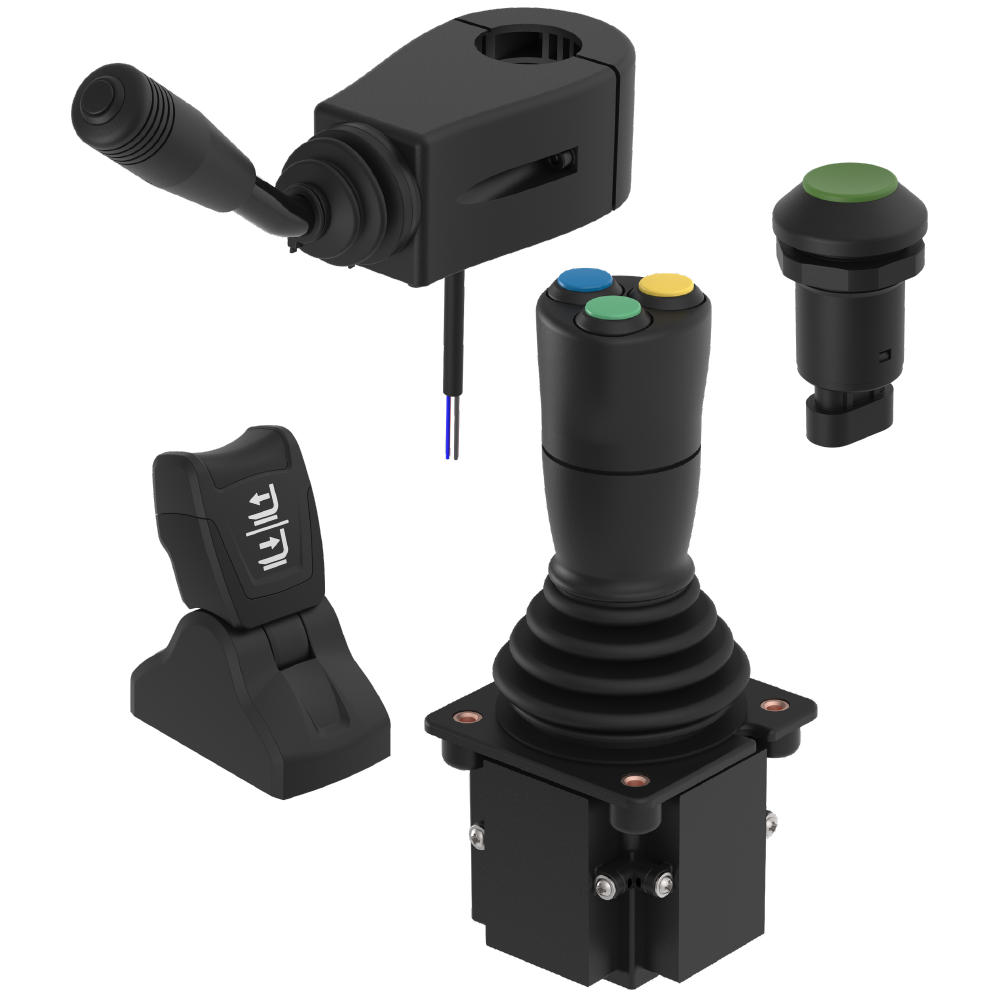 We offer simple buttons, joysticks, thumbwheels and steering column switches as well as operating elements that are optimally suited to the harsh environmental conditions in agricultural vehicles, construction machinery and industrial trucks.
Joysticks, push button switches or steering column switches: With control elements from elobau, you are always in control! The high-quality, robust and durable components fit perfectly into versatile operating concepts - for agricultural vehicles, construction machinery or industrial trucks as well as for control panels and remote control consoles. What they all have in common: ergonomic desing, compact construction and optimum economy.
Page
from
5
104 products found
Page
from
5
104 products found
Single-axis and multi-axis joysticks, thumbwheels and a diverse selection of switches and push button switches: At elostore you will find a broad portfolio of standardized products for operation and control. They are designed for use in mobile machines and remote controls and combine ergonomic handling with long service life, even under extreme ambient conditions and in applications with the highest demands. The wide range of components includes lever switches and steering column switches for the construction of agricultural vehicles, construction machinery and special vehicles, power take-off push buttons, micro push buttons and nano push buttons as well as rocker switches and hand throttles as used in tractors and agricultural machinery.
Versatile, flexible and always a perfect fit
All elobau control elements are perfectly matched to different areas of application - from the elobau JFT fingertip joystick with detent or no-detend end positions, which can be easily integrated in the smallest installation space and offers maximum ergonomics thanks to the angled actuator with soft-touch finger rest, to the elobau J2 compact joystick, which can be used, for example, for front loader control in agricultural vehicles and, despite its compact and space-saving design, can be used with up to three buttons and different types of actuation. In the case of the hand throttle controls, functions such as the integrated friction brake ensure precise locking in one position and thus constant engine speeds. The result is comfortable operation for consistent work in the field and in other off-highway applications.
Proven quality - robust and ergonomic
elobau universal switches, push buttons and levers have proven themselves for decades in numerous applications and fields of use. We combine proven technologies and innovative operation to provide optimum ergonomics and precise work without getting tired at the interface between man and machine. The operating elements are designed for use in a wide temperature range and are protected against dust, dirt and water. With a wide range of options for installation and connection, they fit flexibly and precisely into all functional and ergonomic concepts for mobile machines.