Machine safety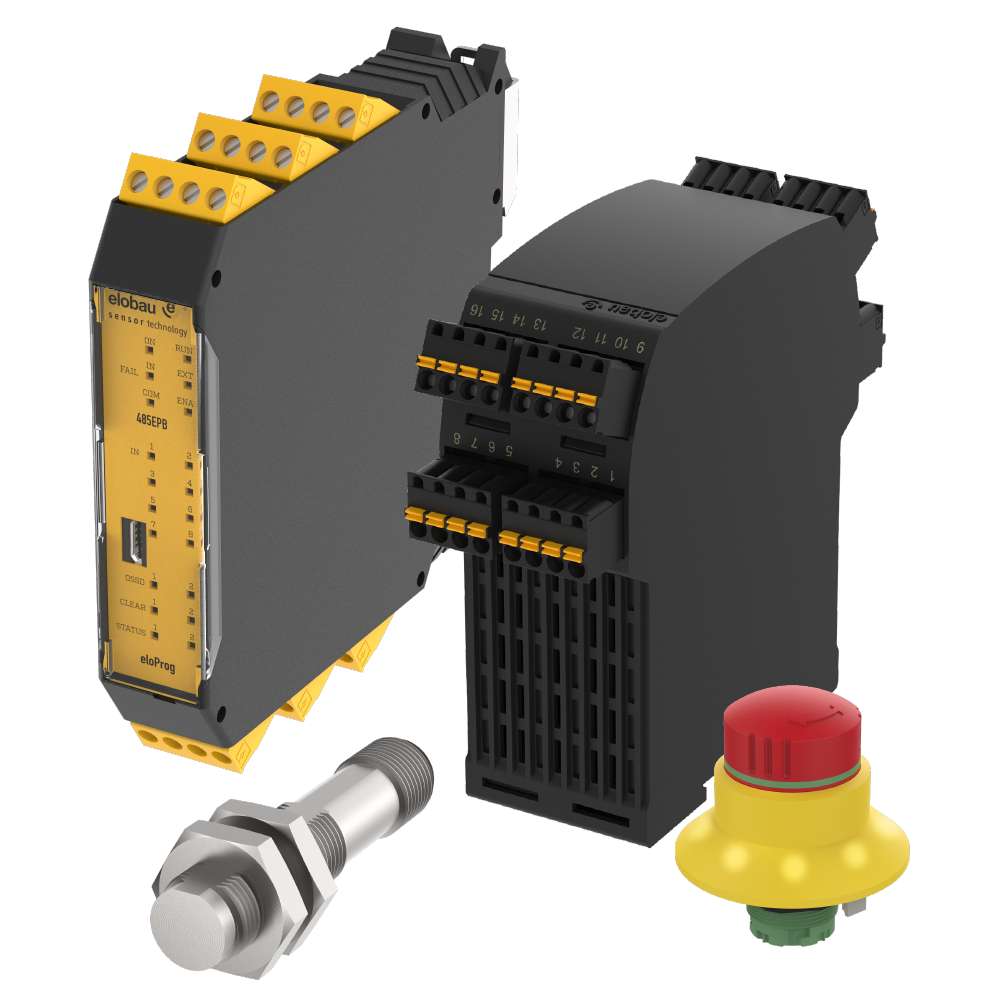 The products from the machine safety portfolio ensure the efficient use of machines and complex systems. Magnetically actuated and RFID technology-based safety sensors from elobau enable individual solutions for monitoring movable guards or positions.
Safety comes first! For the protection of man, machine and environment, elostore offers sensors for condition detection as well as components for signal evaluation and individual safety systems. Magnetically and electronically actuated safety sensors for monitoring movable safety guards are just as much a part of this as emergency stop buttons and safety interlocks.
Page
from
18
428 products found
Page
from
18
428 products found
Maximum machine safety is achieved with perfectly matched safety components from elobau that can be individually configured for your specific applications. In the elostore you can find products for safe condition detection and for reliable and direct signal evaluation. The product range extends from safety sensors that can be actuated by RFID, magnetically and electronically, to compact systems with magnetic safety sensors and integrated units for signal evaluation, to emergency stop buttons and contact elements that enable machines or systems to be stopped quickly and reliably. Besides, elobau offers components and accessories for complete safety systems.
Reliably register faults, switch off machines directly
For monitoring movable guards, you can buy safety sensors online at elostore. The magnetic and electronic sensors monitor safety gates, hoods and covers without contact and thus without wear. Sie sind in kubischen oder zylindrischen Ausführungen erhältlich und sowohl aus Metall als auch aus Kunststoff. Safety sensors for increased switching distance, with ETL/CSA approval and protection against moisture, dust and dirt up to protection class IP69K are offered by elostore as well as variants for concealed installation. For use in food processing machinery and other applications in the food industry, you can obtain stainless steel safety sensors specially designed for hygienic and wet areas with high requirements.
Complete safety systems - optimally coordinated
As easy-to-integrate safety systems, eloFlex and eloProg monitor from 4 to 128 safety functions and from low to high levels of complexity. For this purpose, the optimally matched units are assembled in a modular way and configured according to the requirements and applications when the order is placed. Das ersetzt die aufwendige Programmierung und vereinfacht die Handhabung. Integration into various networks is possible via fieldbus modules - from Ethernet IP via EtherCat and Profibus DP and Profinet to Device Net and CANopen. Plug-in and codable connection terminals make installation quick and easy, and intuitive software enables the configuration of logical links. For quick fault diagnosis and to minimise downtimes, the safety systems have a tool for online diagnosis.